<!-ShowPage(index.html)->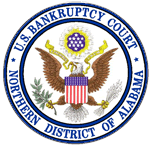 Welcome to the U.S. BANKRUPTCY COURT for the NORTHERN DISTRICT OF ALABAMA
<!-ShowPage(OperationNotice.htm)->
---
This is the LIVE DATABASE For Case Management.
If you are not an authorized court user please exit NOW!
**IMPORTANT**
CM/ECF (NextGen) has been installed. However, you cannot file documents using CM/ECF until you link your upgraded PACER account with your CM/ECF account. Please visit our website, www.alnb.uscourts.gov for step-by-step instructions.
If you have any questions, please email us at ecftrain@alnb.uscourts.gov. As always, we apologize for any inconvenience.
---
5April2017
Court Information